Before connecting your Crown to WiFI:
Claim your Crown with the Neurosity App
Charge and turn on your Crown
Crown's status LED will be solid blue when the device is unable to connect to a known WiFi network and/or needs to be added to a WiFi network for the first time.
We recommend keeping your Crown plugged into the supplied power adapter throughout this entire guide.

Add to WiFi with Neurosity App
If you followed the guide on How to Claim a Crown, you'll need to add your device to your WiFI network if the device is not online already.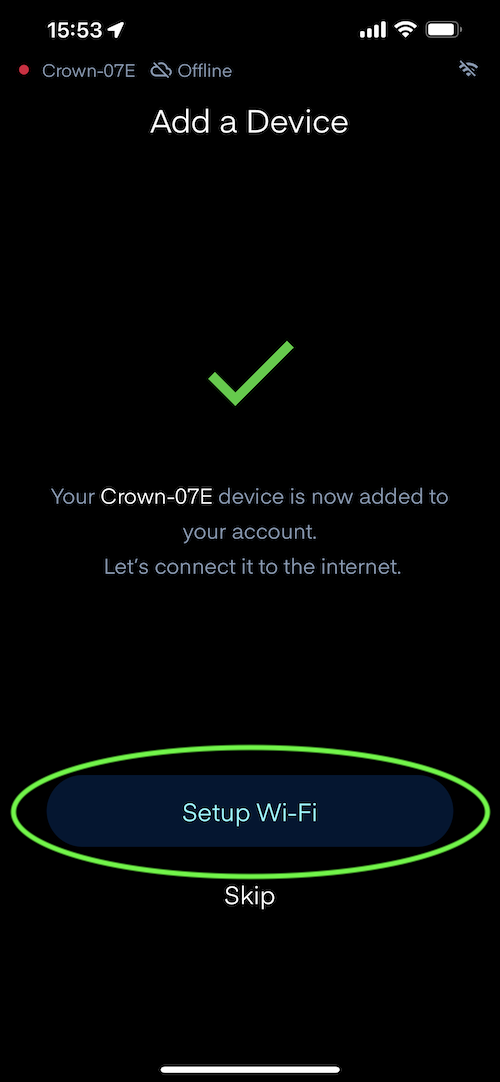 Select Setup Wi-Fi to begin. If your device has been claimed previously and you need to add it to a new WiFi network, head over to the settings page on your Neurosity mobile app and select "Connect to Wi-Fi" to launch the setup process.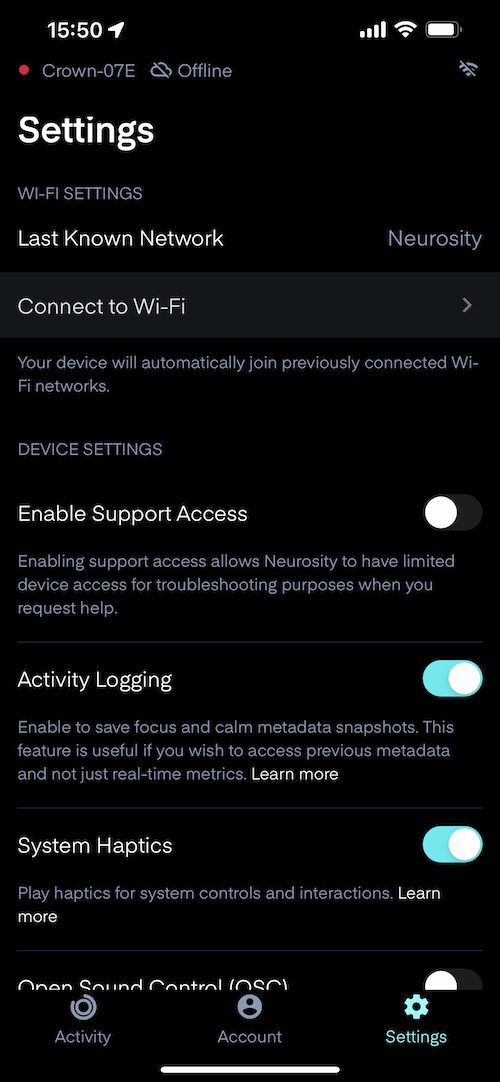 You might be prompted to give the Neurosity app access to your location, please allow it as we only need location permissions to scan for WiFi networks around you, not to track your location.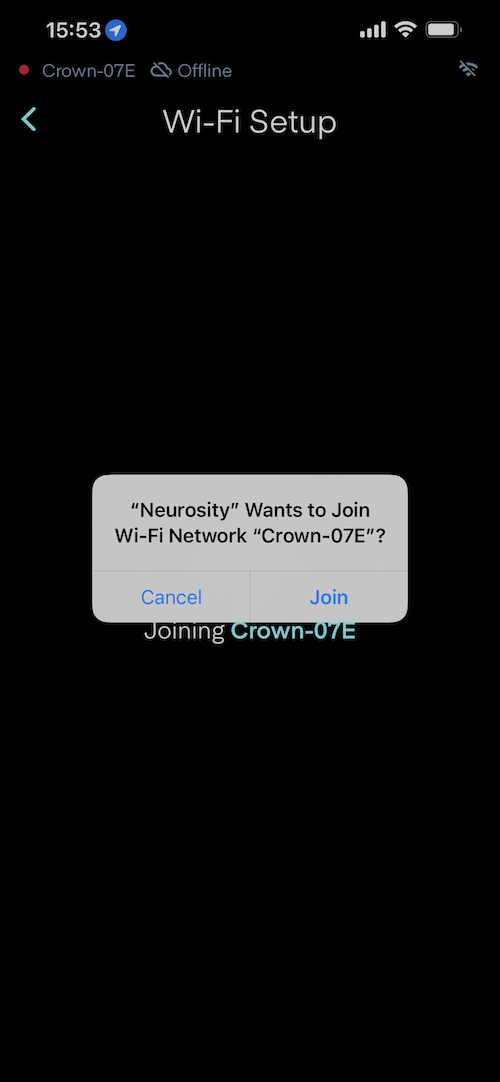 Tap "Join" to join the network of the Crown you claimed previously.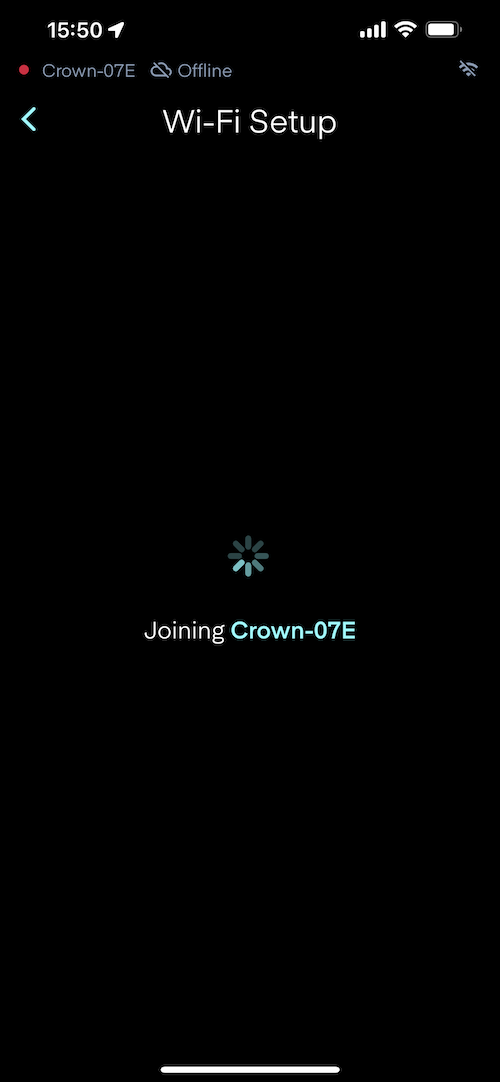 The app will take several seconds to join the WiFi network of the Crown. Here, my Crown is called Crown-07E and it's showing a blue LED light because it's not connected to a known network.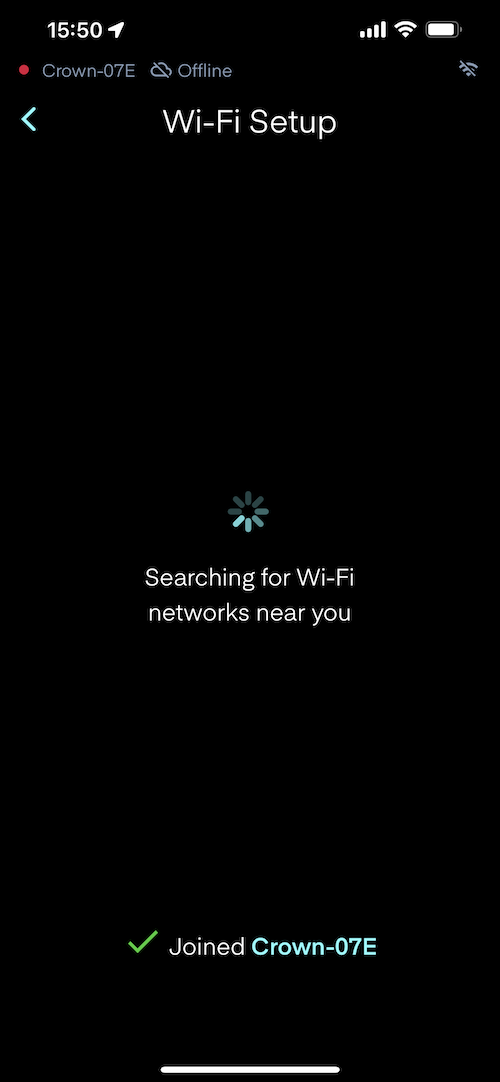 Once your device has joined the Crown's network, the Crown will perform a search for WiFi networks.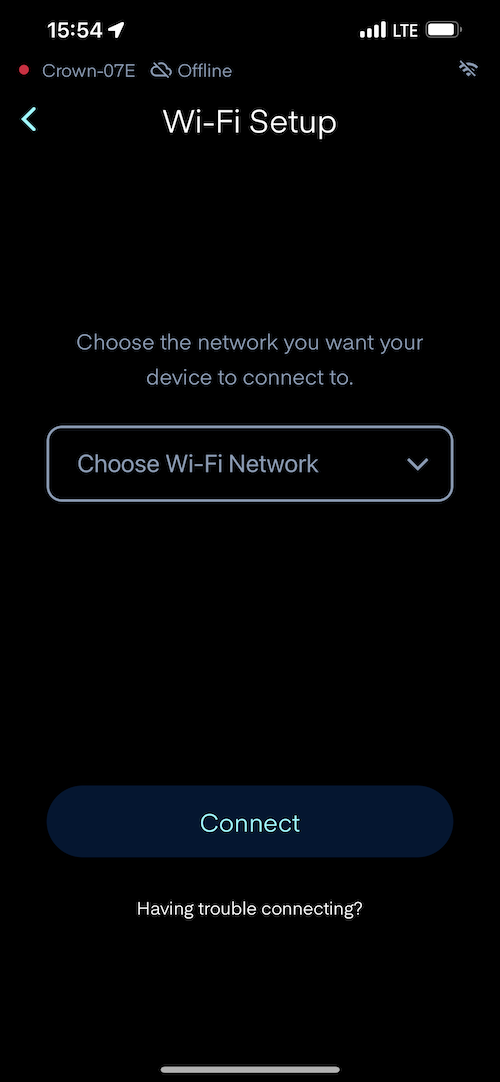 Select your WiFi network from the drop-down list. If you are joining a mobile hotspot, if the hotspot is not on prior to the powering of the Crown, the network may not show up. If that's the case, reboot the Crown with the mobile hotspot powered on.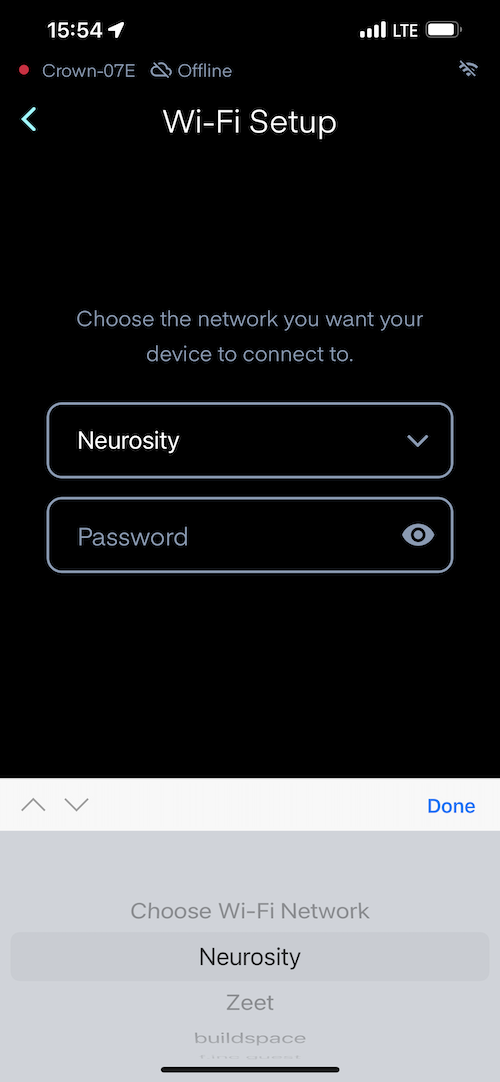 We select the "Neurosity" network as that is the name of the internet we want the Crown to join.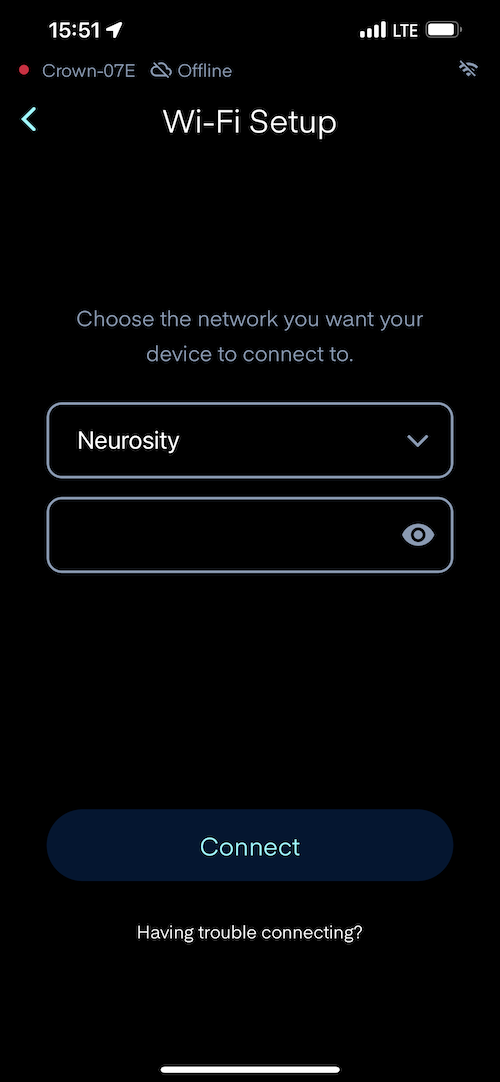 I'll enter the WiFi password and press "Connect".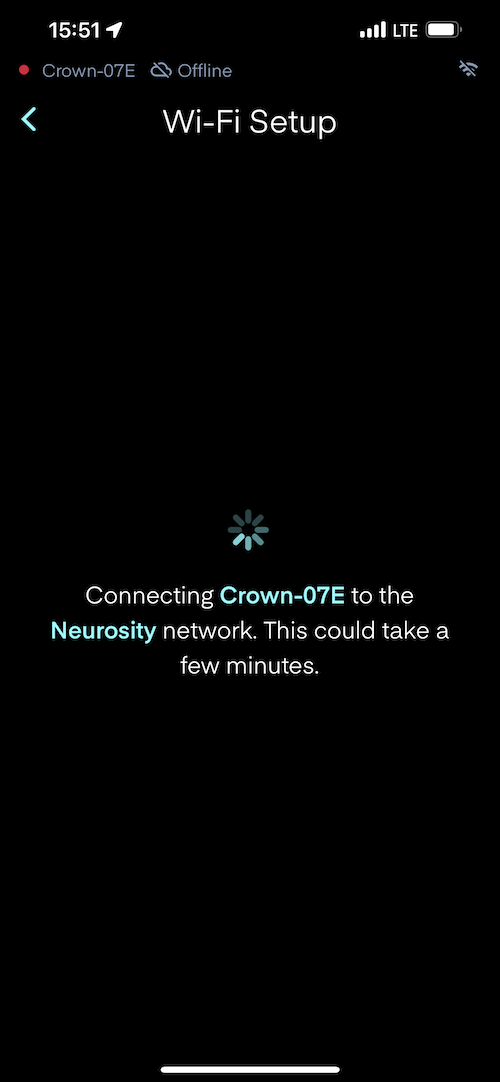 The device can take 30 seconds to two minutes to connect to WiFi.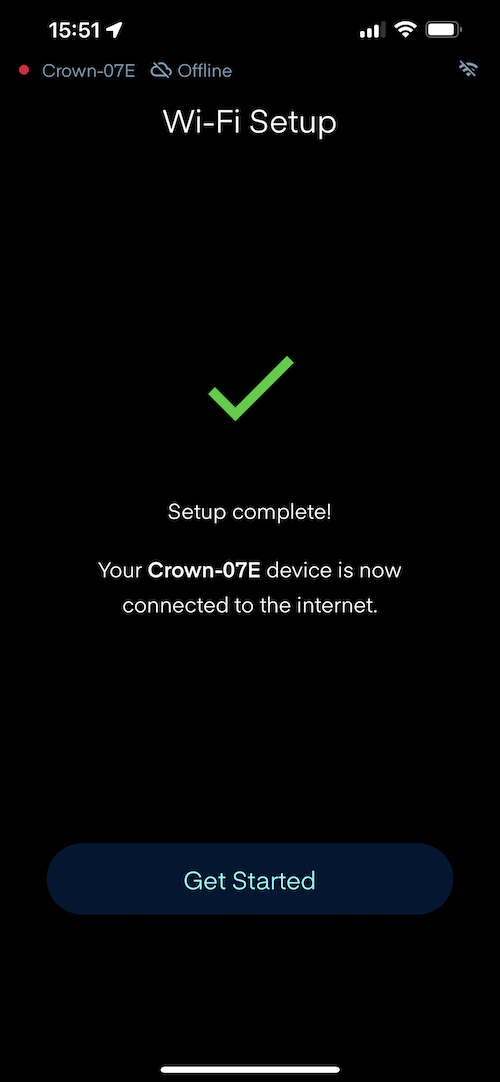 You may tap "Get Started" and you'll be taken to the app's home screen.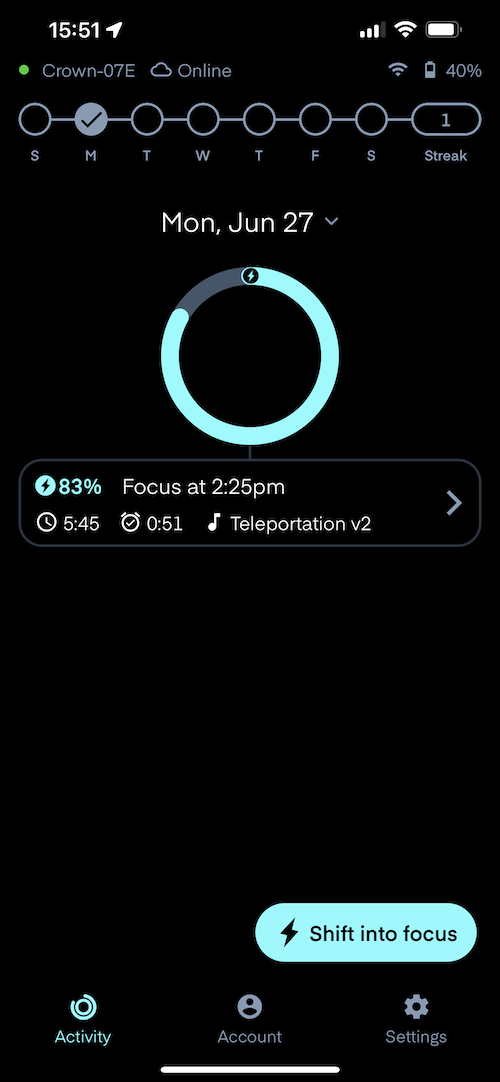 We can see the device is "Online" on the top status bar and the LED is fading white or yellow if it's plugged in because the Crown is ready to go!
Manually Add to WiFi
Follow the Connect Notion to WiFi guide with your Crown and use a mobile phone to connect to Crown's hotspot. The only difference is the Crown will have the "Crown-" prefix in settings instead of the "Notion-" prefix. The Crown will remember your WiFi network once you go through this process.